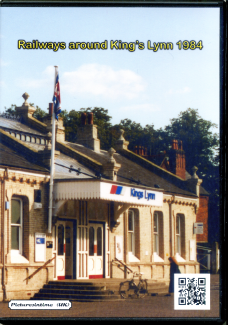 Footage from our archive which in 1984 was recorded onto full size VHS tape. Remastered and now on DVD we take a look at 'The Fenman' at Downham Market, Habour Junction signal box, 47097 shunting at South Lynn, BSC's shunter working at South Lynn, Extons Road crossing, a brief look at Middleton Towers, a class 08 shunter taking a trip to the docks, freight working in and out of King's Lynn with class 47, 31 and 20 with Class 47 and 31 also on passenger duty at King's Lynn.
The final chapter takes a look at the 'Lynn Liner' rail tour with 46026 hauling the tour into King's Lynn. After some shunting of the stock 37134 departs with the tour, 46026 having left earlier to make its way to Cambridge for refuelling.

'Railways around King's Lynn 1984' DVD £14.99 - Catalogue No. PITDVDKL
4:3 format, remastered from VHS tape.
Orders are normally sent within 2/3 days, recorded delivery within UK.