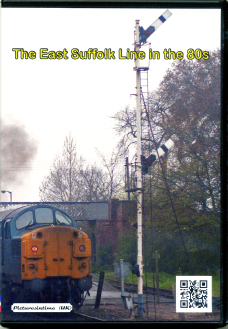 This DVD features footage from Lowestoft, Oulton Broad Swing Bridge, Oulton Broad South, Beccles, Brampton, Halesworth, Darsham, Saxmundham, Wickham Market, Melton, Woodbridge, Westerfield, East Suffolk Jcn and Ipswich.
We start at Lowestoft with DMU and loco hauled workings. After seeing Oulton Broad Swing Bridge in operation, we then progress up the line to Ipswich, including some footage from the cab of a Cravens DMU. Having made it to Ipswich we then work our way back, starting with a 37 hauling its train onto the Lowestoft line at East Suffolk Junction. More footage follows as it makes its way to Halesworth where we join the train, filming from on board as it continues its journey to Lowestoft. This train was the last timetabled loco haul over the East Suffolk line and finished on 12th May 1984. We then see this train depart from Lowestoft and make its way to Norwich with lineside footage from other occasions featuring Somerleyton, Somerleyton Swing Bridge, Haddiscoe, and Cantley. Finally we see the last East Suffolk loco haul running into Norwich platform 1 to complete its journey.
Running time 61 minutes approx.

4:3 format, remastered from VHS tape.
Orders are normally sent within 2/3 days, recorded delivery within UK.